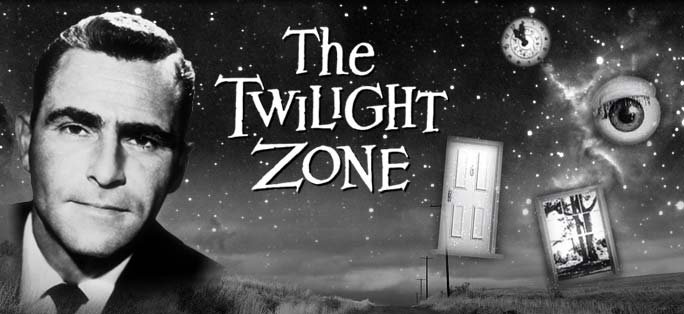 You unlock this door with the key of imagination. Beyond it is another dimension: a dimension of sound, a dimension of sight, a dimension of mind. You're moving into a land of both shadow and substance, of things and ideas. You've just crossed over into… the Twilight Zone.
I brought in the first day of the New Year locked onto the SyFy channel watching the Twilight Zone.  I never realized how much I appreciated these black and white 30 minute episodes until this past weekend.  Seeing the brilliant Rod Sterling make sci fi magic on the screen prompted me to discuss the two big reasons why The Twilight Zone is one of the best TV series  ever (I really do mean ever!)
It's all about the Story Telling
I would take the cheesy martians, toy spaceships, and black and white episodes any day because the story telling is amazing!  Special effects don't mean anything unless there is a great story to back that up and because they didn't have CGI back then, this show had to have great stories.It's like taking a flash fiction piece and putting it on screen.  You have to be an excellent writer if you only have 30 minutes to hook your viewer, tell story, reveal a moral, and provide an ending no one could see coming.  There are movie writers out there that can't do that in two hours! 
The Underlying Social Issues
In the episode Number Twelve Looks Just Like You the year is 2000, where every girl at 17 undergoes a physical transformation to be beautiful and perfect (not that far off huh?).  One line that stuck out to me was when the main character, who didn't want to go through with it, said that if everyone is beautiful, no one really is.  In The Little People it explored the danger of man's God-complex when he discovers a world of little people.  And we can't forget the poetic justice in People Are Alike All Over, when a man explores Mars to find Martians that look just like humans.  I could on but I just loved how each episode used a farfetched story to convey a not-so farfetched social issue – in 30 minutes!
Watching the marathon made me long for the days of purposeful storytelling which is being sacrificed more and more these days to flashy special effects and picture perfect actors. 
What about you? Are you a big fan of the Twilight Zone?